With the advanced technology, people have switched mostly to SSD or Solid State Drive rather than using HDD or Hard Disk Drive. SSDs are faster, slimmer, and quieter than HDDs.
Restart the system, after installing SSD in your computer and enable SSD from BIOS.
Migrate your Windows 10 OS to SSD from there using migration software or can be done manually.
Restart the PC and enter BIOS to change the boot order and from the SSD to set OS to boot.
It is an easy process and does not need any expertise to do it.
How to make SSD primary Drive Window 10
SSDs are way more compatible nowadays than HDDs. They also come at affordable market prices. SSDs are really fast in speed counting which helps to boot and use OS faster than HDDs.
If you want to make SSD for your Windows 10 computer's primary Drive without any help from experts. Here are some steps of how to do it:
1. Prepare the SSD
To make the SSD primary Drive of your computer the first thing you need to do is prepare the SSD. To prepare an SSD means to buy it.
Since SSDs are getting cheaper you can afford one from the market. Make sure that your SSD has the same or more space capacity than your HDD.
If your HDD has occupied a lot of space, then it might be a bit expensive, for you as you have to buy an SSD with a larger capacity which is expensive.
If you can't afford an expensive SSD then try moving your files to an external disk.
2. Install the SSD
After purchasing, install the SSD in your computer or take your PC case apart.
Insert the SSD in the spot provided and connect it through cables to your computer.
Restart your computer and enter BIOS. From here you will be able to enable your SSD to use for your computer.
3. Migrate window 10 OS to your SSD
After you enable the SSD in BIOS, you are ready to use it in the drive of your computer.
Confirm it by going to disk management. You can see your SSD drive which indicates you are using it.
But if you want to use it as a primary Drive you have to migrate your Windows 10 OS to it.
It's quite complicated when it comes to migration. But if you use a third-party migration tool then it's a bit easier.
4. Set SSD as a boot drive
After migrating the Windows 10 OS to SSD, restarting the computer takes time to designate itself as the primary Drive even after the migration of Windows 10 OS. Read briefly about installing SSD to your PC or Laptop or you can watch the video below.
Check out this video to get a more clear reference:
So you need to designate the SSD as a boot drive that will boot from your SSD. Here's how:
How to set SSD as the boot drive in BIOS
The very first thing after installing an SSD is to restart your computer.
You will be able to enable SSD in BIOS in the following
Press F2, F8, F11 and DEL together to enter BIOS > Go to setup > enable SSD > save the change > exit.
After this, your SSD has been installed on your computer. To confirm it, recheck it in the disk management.
Then you need to migrate the Windows 10 OS to SSD. After that, your installation is done. Restart your computer to designate SSD as a boot drive for your window 10 OS.
Enter BIOS and press F2, F12, and DEL together. Search for the boot option.
Now you can easily change the boot for your SSD from where the OS should boot itself. If you can't do that, try doing the same from HDD even if the OS is not in it.
After designating your SSD to save the change and exit. Now your computer will boot from your SSD as you've set it as your primary Drive.
How to transfer Windows 10 from HDD to SSD?
Setting the SSD as a primary disk involves the most important step of transferring windows 10 OS to it.
It's a bit of a complicated task without third-party software.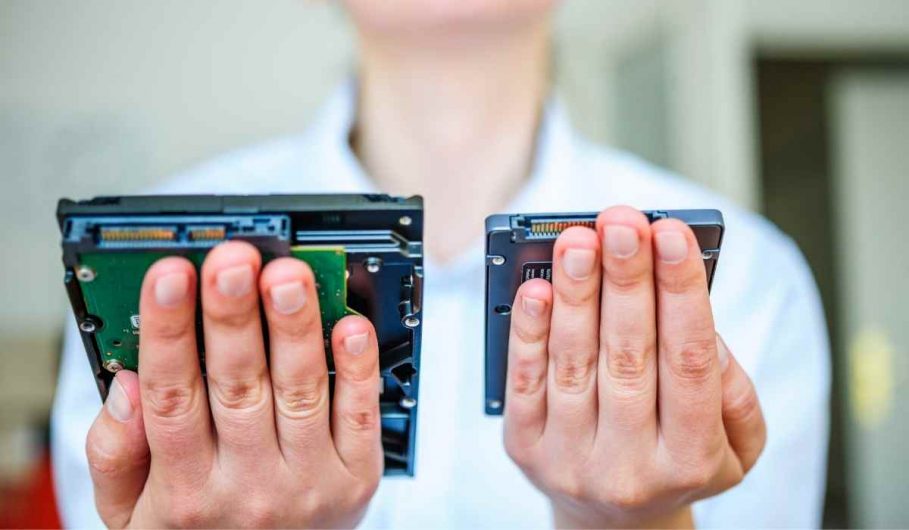 The Partition Manager is a paid software while Todo Backup is free software. Use according to your preferences.
Open it in your system and choose to migrate to the OS option. Select SSD as the destination drive for migration. Make sure that your SSD is cleared as the migration process will delete everything to continue the process.
You will be provided with the targeted disk layout which you can customize, after completion of the process.
After that select proceed to migrate. Then restart your computer and use BIOS to choose your SSD as the boot disk for your OS. Make sure you've properly set your SSD as the boot disk for your OS and you are ready to go.
Conclusion
Turning the SSD as a primary Drive is a lot of work to do. But if you follow the steps accordingly and as instructed you can enjoy the fast speeds of your new SSD.