I'm sure most of you are aware of the enormous number of updates that Windows 10 undergoes. Adding to that, the update in Windows 10 is confronted with unpredictable errors dealing with figures. One such Error code that it encounters is 0x8024a105. The windows 10 update error 0x8024a105 occurs predominantly due to the false framework of system files in your Windows.
Now, the numerous reasons behind this issue could be incomplete installation, a partial uninstall, illegitimate deletion of hardware or applications involved, attack by a malicious virus or it could be due to improper shutdown. Yet there are several other errors related to Windows update such as 0x800705b4, 0x80070057, 0x80070005 & 80244019 which could be erratic.
Don't miss: Fix Windows 10 Microsoft Compatibility Telemetry High Disk Usage [FIXED].
To deal with these errors, particularly 0x8024a105, we have come up with various plans, let's have a look at it: 
Plan 1 – Running the troubleshooter in your PC
Running the Windows Update Troubleshooter is the fundamental fix that can be performed to fix Windows Update Error code, especially 0x8024a105. So, given below are the steps to run the troubleshooter to resolve this issue: 
1. Firstly, go to the Start Menu.
2. Now type "Troubleshoot" in the search field and click enter.
3. This will redirect you to the Troubleshoot Window.
4. Then press Windows Update to expand the option.
5. After some time, press Run troubleshooter.
6. Once you click on that, scanning starts right away and your error will be detected in no time. 
7. Once the problem is detected, instructions will be put up on the screen as to how to deal with it. 
8. Follow the instructions and try updating Windows 10 again to check if the problem still exists or no. 
Method 2 – Clearing and Resetting the software distribution folder 
Clearing and Resetting the Software Distribution Folder can resolve the Windows update error code 0x8024a105 issue. Software Distribution Folder is an important component of the Windows Update process. Therefore, it is suggested that we reset it. Below are the steps to be followed:
1.  First, click on Windows Key+X and then choose Command Prompt(Admin)/Windows PowerShell(Admin) from the menu.
2.  In the Command Prompt, type the following commands one after another and click on enter. The commands are as follows:
type "net stop bits"
then "net stop wuauserv"
type "net stop appidsvc"
and then "net stop cryptsvc"
3. Time to go to the following folder C:\Windows\SoftwareDistribution\Download and try deleting the entire content of that folder.
4. Now go back to the Command Prompt and type the commands given below one by one followed by entering:
type "net start bits" ↵
then "net start wuauserv" ↵
type "net start appidsvc" ↵
and then "net start cryptsvc" ↵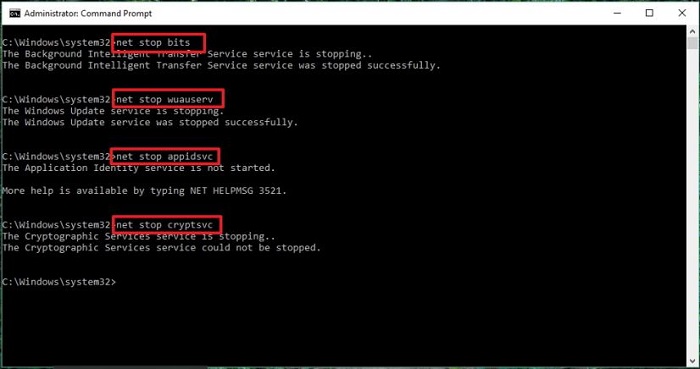 5. Finally, Restart your PC to obtain the changes. 
Plan 3- Searching and Fixing the Corrupted Files Using DISM Tool
The Windows 10 update error code 0x8024a105 can also occur due to the presence of corrupted files. Therefore it is proposed to run an inbuilt DISM tool to fix this particular error. The steps to do this are as mentioned below:
1. First, you should be pressing Windows Key+X together.
2. Open the Command Prompt (Admin) from the menu.
3. Next step is to type the given below command and press Enter.
DISM /Online /Cleanup-Image /CheckHealth
5. After that, the DISM tool will scan the problem properly and tries to resolve the issue.
6. Finally, restart your PC and check for the updates again.
More: Fix Error Your Windows License Will Expire Soon [FIXED].
Plan 4- Reset Windows Update Tool Agent
Below mentioned are the steps to reset the Windows Update tool Agent to detect and fix the error:
1. First of all, you must download the Reset Windows Update Agent from Microsoft.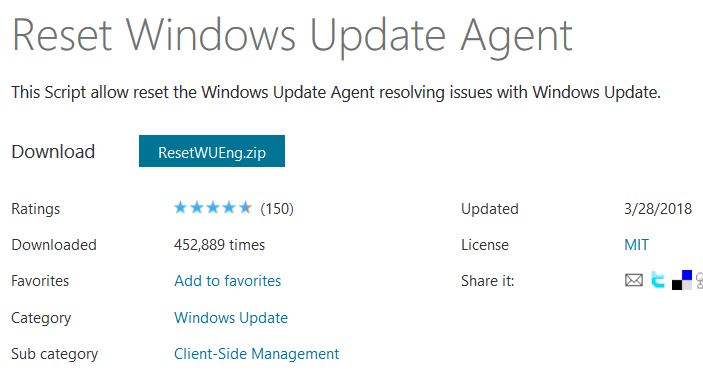 2. Next step is to Right Click on it and selects Run As Administrator.
3. After that, you'll see a message prompt.
4. Then you find a question- Do you want to continue the process? (Y/N).
5. Select Y and hit Enter.
6. This will check all windows related issues.
7. Finally, confirm if the Windows 10 update error 0x8024a105 is resolved or not.
Try updating your windows again to check if the error is resolved or not. 
Plan 5- Reset Catroot2 Folder
If the Error Code 0x8024a105 exists while updating your Windows, the step to recover this issue is resetting the catroot2 folder. Here are the steps to do the task: 
1. First and foremost, press Windows Key+X simultaneously and choose Command Prompt (Admin) from the menu.
2. Once the Command Prompt appears, all you need to do is type the following commands one by one and hit enter.
net stop cryptsvc ↵
md %systemroot%\system32\catroot2.old ↵
xcopy %systemroot%\system32\catroot2 %systemroot%\system32\catroot2.old /s ↵
net start cryptsvc ↵
3. After the execution of commands, erase the files in Catroot2 Folder.
4. The final step is to restart your system. Now, try updating your windows and check if the issue is resolved or not. If this method doesn't work out, navigate below for further plans.
Plan 6- Personalised Windows Update Settings
Here are the steps to personalize the update settings by user needs: 
1. The first step is to levitate the arrow to the rightmost corner of your screen. And, open the Charm Bar.
2. Go to Settings.
3. Next, press on Update and Security. 
4. Then direct below for Advanced Options. 
5. After that, you must check the box that says Give me updates for other Microsoft products when I update Windows.
6. If you're a local network user click on Delivery Optimization.
7. Then switch the option Allow downloads from other PCs to turn it on.
In the end, retry to update the error and ensure if the 0x8024a105 error code is fixed.
Plan 7- Performing a Clean Boot on your PC
The steps for booting are as follows: 
1. First and foremost, press Windows Key+R button concurrently to open the Run Window.
2. Then type "msconfig" in the text field and click OK.
3. This will redirect to the System Configuration utility window.
4. Now, click on Services Tab.
5. Keep Checking the Hide all Microsoft Services checkbox. Eventually, press Disable all button & hit OK.
Plan 8- Update Drivers to fix the Error Code 0x8024a105
The problem in Windows 10 Update Error code 0x8024a105 can also be due to obsolete drivers. Therefore as one of the best solution, update your drivers to resolve any kind of Windows-related errors. You cannot resolve the issue until you update the driver. Also, you can follow up the steps mentioned below to start resolving the error 0x8024a105: 
1. First, press Windows Key+X button concurrently and choose Device Manager.
2. Then choose the former driver and right-click on it.
3. It's time to select Update driver software.
4. If a driver is obtainable to update then the wizard will involuntarily download it, if not, your driver is already up to the minute. 
Plan 9- Switching the Internet Connection
Switching your internet connection would be a great option if rebooting the system doesn't do fine. 
Rebooting the system consumes a pretty long time whereas switching your internet connection could be done in a matter of seconds. 
For instance, if you are connected to some wired connection, try choosing another alternative for a wireless connection. Well, if you are already connected to a wireless connection, try communicating with a CAT5 cable, if possible. The switching of the Internet has indeed helped a lot of people over rebooting the system to detect and resolve 0x8024a105 error code. 
Plan 10- Reboot your system
Well, this plan might appear a little peculiar. But, it is so noticed that while your computer reboots, the Windows will still continue updating and therefore the reboot would also consume some time. This plan is basically recommended for people who do not use their system pretty often, who do not need their system while on their work. Casual users can wait for predominantly longer period of time until the system reboots and Windows get updated without any Kind of windows 10 install problems like 0x8024a105. 
See More:
Conclusion:
So, the above mentioned 10 plans are capable of serving the purpose, and Windows update error 0x8024a105 can be easily detected and resolved. However, if the problem prolongs, the best suggestion would be to reinstall your Windows 10 or you can reach out to NSS Laptop Service Center. Before you take this major step, do not forget to reinstall and keep the necessary backups of all your essential files.