What is a Fast Copying Software?
When we find the need to copy a file on windows, what we usually do is, press the Ctrl+C shortcut key or just the right click on the windows explorer to choose copy/paste and in Mac, we basically press the command key with C and V to perform copy-paste. But there's a catch when we have a large number of files to copy!  You'll perceive that the copy speed of files gets extremely slower than the usual and would waste much of your time. In this article we will provide you the best fast copying software to make your data copy faster and easier.
Considering another scenario where you transfer multiple files to say, pen drives or hard disks, you may not like the part where the files are taking ages to get transferred causing the Windows/ Mac to hang for a long time. To avoid this time complexity, we have come up with a faster and an alternative solution to make the file copy process faster than ever in the most effective manner. Not to worry anymore as we have the top 7 fast copying software for Windows and Mac:
Also Read : Top 10 Best Registry Cleaning Software.
1. Wondershare DVD creator
The Wondershare DVD Creator is one of the unbeaten DVD fast copying software for beginners, well known for its easy-to-use features and clear interface.
It can help you copy DVD to DVD/ISO file/DVD Folder within a few mouse clicks and burn rapidly in no time. Wondershare DVD Creator is a well-customized super fast copy software where you can make copying process by removing disparate chapters, choosing audio and subtitle, and preview your creation in a real-time environment. Excluding the part that it is for DVD copy, this all-in-one software also supplies you extra functions such as One-click to Burn DVD, Photo Slideshow Maker, Video Editor, DVD to Video, and many others that makes your DVD appear more creative. It assists both Windows and Mac OS platform with the latest and older version. Now let's take a look at the pros and cons of this software:
Pros:
Copy DVD to dvd/ISO file/DVD Folder effectively.

A wide range of personalized tools to edit content before DVD copying.

Doesn't compromise with the  Quality of videos even after converting process.
Cons:
It is a paid software.

Some functionalities are absent on Mac.
2. Teracopy
One of the easiest, fast copying software for files that copies and moves numerous files at the maximum possible speed. It skips unnecessary files during the copying process and displays them at the end of the transfer so as to grab your attention towards those files. Apart from that, Teracopy windows 10 can check for errors in the copied files by calculating their CRC checksum values. Additional information regarding the files is also displayed. It pauses and resumes file transfer. Error recovery and shell integration can be done using Teracopy.
Related – Best Free Screen Capture Software for Windows and Mac.
3. ExtremeCopy
ExtremeCopy is another file fast copying software, which is free and does an amazing job of doing local data transfers at a faster rate. For whatever purpose, it's pretty awful for network transfers, so do not think of downloading this software if you have to transmit data across your LAN. It's comparatively faster than TeraCopy and can be used easily.
Pros:
Copies data faster than the others available out there.

Gives you the opportunity to pause copy operations.
Cons:
The standard version of this software doesn't have a user interface.

Not great for network transfers

Pro features of this are available online for free in other copying programs too.

You must compulsorily install the programs to run.
4. Fastcopy
This is your best bet if you're in search of a fast copying software to be used on a frequent basis. It's not the best and fastest for network transfers, but it's suitable for fast local transfers as well as fast copy download. It's probably the best copying utility overall in terms of performance and speed.
Read – Best Free Unlimited VPN Applications for Android.
5. Ultracopier
The UltraCopier is one of the fast copying software, but speed is not it's center of excellence. It has a fine interface and has a lot of useful features that makes it handy. Software development has slowed down, yet it manages to get updates every 6 months or so. It is included under best file copy software 2017 for its amazing features.

Pros:
Works effectively on Linux/ Unix.

Assists third-party plugins to extend functionality.

Start/stop copy.

Limit speed.

Search can be done using a copy list.

Simple and smooth interface.
Cons:
Speed isn't great, unlike other copy software.
More – How to make bootable pendrive.
6. Killcopy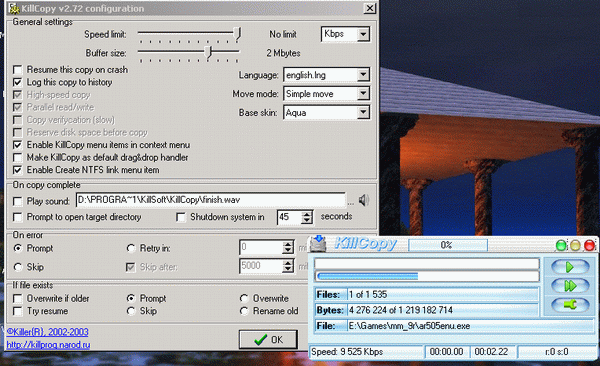 Although KillCopy has a frightful looking interface when you copy files,  it gets the job done faster than expected and it is definitely one of the fast copying software. It's kinda old and isn't updated when compared to TeraCopy, UltraCopier and other popular copy programs.

Pros:
It can recommence copy on the crash.

Can do read/write parallel.

Resolution options are available in case of errors or any file conflicts.

Best boost options for good performance.

Great network performance when copying the files.

Able to securely wipe data before copying.
Cons:
The interface isn't appealing.

Software updates do not happen very often.

Must be installed compulsorily in order to run.
7. Richcopy
This tool was secretly designed by a Microsoft employee and it wasn't released to the public immediately. It's kind of old and has not been updated since 2009, but it's known for its superfast network transfers. Nonetheless, it's really slow for local copying, so do not even think of using this for anything other than network transfers.

Pros:
Fast copying software

for networks.

parallel copying can be done.

It can pause an existing copy process and resume it later.

It will continue copying even if network connectivity is lost.

clean interface.
Cons:
Not updated in a long time, therefore extremely slow for local copying.
More – Top 10 Best Registry Cleaning Software.
Conclusion
These are some of the best fast copying software available. There are a lot of such tools out there but these are the top-notch tools that can help you copy multiple files a multiple number of times without any glitch.
Happy copying!