The world is moving at a faster pace than we expected. Technology is the main reason behind it. The computer is the beginning of a change in our society. With time Registry cleaning software are upgraded our computers but also improvised their use. At first, when the computer was made it was only made for calculation purpose but now see it is being used for every single purpose. Now the question is what makes a computer so special??. Well, the answer to this question is its software. One such is Registry-cleaning software.
Now before beginning let us try to understand what is a Registry cleaning Software and why do we need it.
What is a Registry Cleaning Software?
A registry cleaner is a third-party Windows OS utility software whose sole purpose is to clean up the Windows registry and keep the system error-free and fast by removing redundant items like the registry files of already uninstalled software or shortcuts that have since been moved.
Now again a question arises why do we need it well as you know because older versions of the Windows OS tend to slow down during boot up and exhibit errors when the registry becomes too big and cluttered. Also it will optimize your PC with just a few clicks, give it a speed boost, eliminate errors and stop crashes.
So now you have a basic idea of what is a Registry cleaning software and why it is important for us. There are different companies who own different Registry cleaning software and promised a better quality now again whom to choose and why it is very important to choose a Registry cleaning software as it can even harm your computer so choosing it wisely is also very important.
Do we really need Registry cleaning software I believe yes we do, the main reason is that this software not only helps to clean the software but also boost our systems. Here is a list of Top 10 Registry cleaning software I have also provided the plus and minus points of the software:-
1. Auslogics Registry Cleaner
If a specific registry key is causing errors, this is the tool for you.
+Detailed info about each key
+Easy backup and recovery.
+Excellent registry key search tool
Auslogics Registry Cleaner is billed as "the best tool to safely and effectively clear invalid entries from your Windows registry.
2. CCleaner
One of the best Registry Cleaning Software which I myself use personally is CClenaer, apart with Registry cleaning it also has other tools which are quite interesting to use.
+Emergency registry backup
+Excellent set of other cleanup tools
-No one-click backup restoration
Like most tools of its kind, CCleaner's registry cleaner checks for different types of unused registry entries, including unused file extensions, help files, and obsolete software.
3. Restoro
This is a good solution for safely and securely repairing your system. It can be used to optimize the windows system. Restoro performs whole assessment, scanning, and hardware analysis.  It helps you to free up space and restore the performance of the system.
+Easy process
+Restores maximum performance
4. IOLO System Mechanic
Quick scans, but you have to use an email address to act on them.
+Checks for a range of issues.
+Emergency registry backup.
-Requires activation code.
5. JetClean
Deep scans, but we'd prefer more information about the results
+Emergency registry backup
-Search results lack detail
-Lacks transparency.
6. EasyCleaner
EasyCleaner has a tiny file size but it does its job well and good i.e. clean your registry.
Also Read – Best Emoji Keyboard apps for Android.
7. Outbyte PC Repair
This tool has different functions and features to find out and resolve issues related to performance. Outbyte PC Repair can help you with different issues like improving security, cleaning the drive, etc. It also identifies the cached and temp files and removes them from the system. 
+It has a lightweight scanner for finding vulnerabilities.
+This tool can solve more than 100 issues
– There is no free plan available.
8.
Wise Registry Cleaner
It is one of the fastest registry cleaning software you can ever have. Also, it has a lot of scan modes that can help you in a lot of different ways.
+Easy to use
+Automatic backup
+3 scan levels
-Needs constant rebooting
9. Registry Repair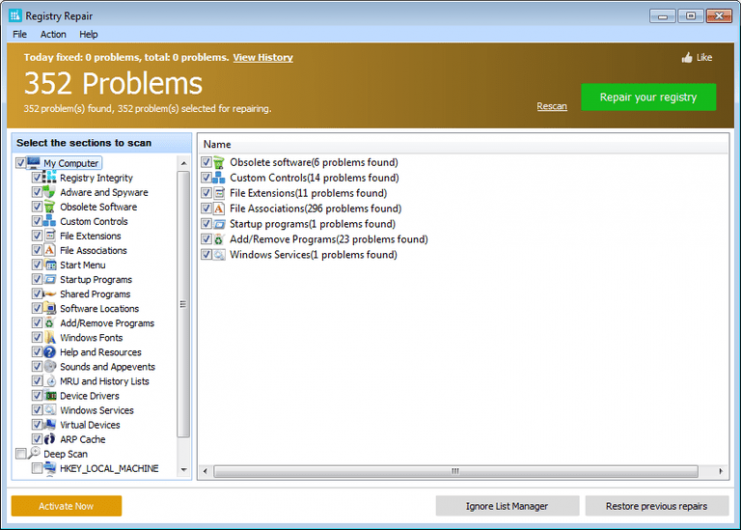 Registry Repair from Glarysoft can automatically start the registry scan process the moment you initiate the tool. Like CCleaner, this registry editor also proffers automatic registry backup before making any changes to the Windows registry.
10. Advanced System Care
Best free registry cleaners for Windows, Advanced System Care Free is a decent freeware program whose "Registry Clean" utility does the registry cleaning on your Windows system. It is very speedy in terms of singling out errors and conducting scans regardless of the number of errors the repair tool finds.
Also Read – Best Game Recording Software for Winodows.
Conclusion
One of the biggest culprits behind registry corruption is software uninstalled incorrectly. It may not be any of your fault, since oftentimes the reason is poorly written software code that does not ensure clean uninstalls. Registry Cleaner is the best tool to clean out registry keys left by uninstalled applications.
The registry keeps growing when you use Windows, so does the obsolete items in the registry, which would eventually lead to performance degradation and even system crash. Wise Registry Cleaner scans the Windows registry and finds errors & residual items in the registry and then cleans or defrags them. By fixing these residual and corrupted items in Windows registry, your system will run faster and more stable.
When you finish cleaning up your registry, you will likely notice a performance boost and any error messages you saw whilst using your computer previously will be gone.
The Registry Cleaner will remove entries for non-existent applications, and it'll also fix invalid or corrupted entries. You'll probably find your computer starts much more quickly too!
Other than cleaning up and defragging the windows registry, Wise Registry Cleaner can also optimize relevant system settings to improve both system speed and internet speed. After one-click optimization, you will see some improvement in your PC's performance.
Summing it up
Last but not the least I would say to choose the registry software which is equip with your system. I guess the only thing you should care about is to trust a software else result can be disastrous. These top 10 software are best with their optimization and performance on different systems. Thus while operating in windows is most preferable as the system required a deep cleaning and boosting. So try it once I promise you will difference.
Thank you