For the last 4 to 5 years, the youth have seen an increasing craze toward purchasing smartwatches. Several leading companies like Apple, Oppo, boAt, etc., compete against each other to grab the smartwatches market.
These smartwatches provide many more functions than an ordinary watch that is only used to view time. Starting from smartphone connectivity, internet access, music, and calculator, to projecting health status like blood pressure, heart rate, sleep time, foot count, etc. Apart from providing so many functions, most of them are durable, water-resistant and come with long battery life.
Also Read: Monoprice 110010 Review
About Carbinox Smartwatches
Carbinox is a company of US origin. There are three variants of Carbinox smartwatches, namely, Titan, Spacecrafter and Black Lux. All three variants come with more or less similar specifications. The Spacecraft variant is slightly different in appearance as it comes with a round display dial.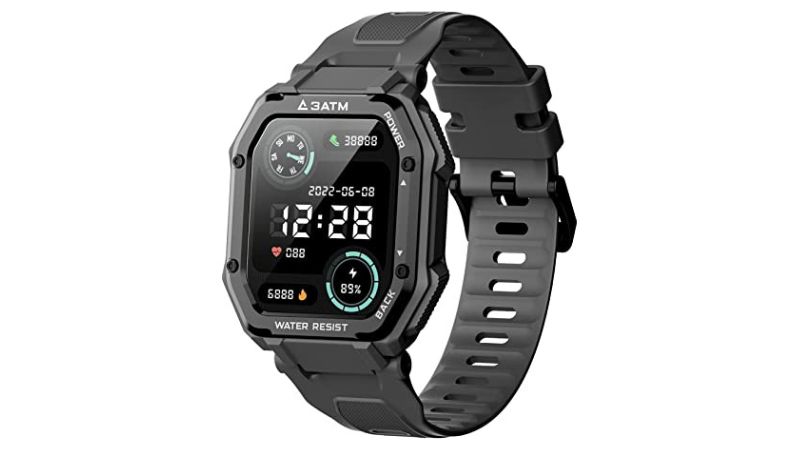 Speaking about the specifications of the Carbinox watches, they come with an 8762DK processor along with a 1.69-inch display. The display has been designed in such a way that it is easily visible in bright daylight. The device has a 380 mAh Lithium Polymer battery which charges within 2 hours, and the company claims it has a standby time of one month, and when in continuous use, it can last up to 15 days. It is this vast battery backup that makes it stand out from other similar devices.
Connectivity of Carbinox Watch
The watch can be easily connected to any Android or iOS smartphone. The watch has Bluetooth-enabled features and can be easily accessed from any device just by installing its official app. This watch can quickly do Internet surfing, browsing, downloading data, and message and call access.
Health Features
The Carbinox smartwatches have several advanced sensors that can measure body temperature, blood pressure, heartbeat, sleep time, etc. All this information is mostly correct and accurate. Therefore, the watch can be a handy device for understanding the user's health updates very quickly. The device also has a footstep-counting feature that helps a person walk or jog.
The Durability of the Carbinox Watch
When it comes to the point of Durability, the Carbinox Watch can easily beat other smartwatches that are commonly found on the market. The watch is water resistant, hard to break, and made for rough use after intensive testing. The watch is 100 percent safe and ready to use even after dipping in water. One can easily swim even with the watch worn on the wrist! The company also claims that the watch can not be broken even after hitting it with an iron hammer. The user, therefore, need not to worry if his wrist hits some hard surface accidentally.
Advantages of having a Carbinox Watch
The outstanding design of the watch is sure to impress and win the hearts of most of the tech-loving youth of the present day. The display style and rich features of this watch are what make this watch one of the best smartwatches in the current market of gadgets. The most exciting part of this watch is its long battery life which is the best in class. One hardly needs to charge the device twice a month. It is said to have a battery life of one month after being fully charged. The watch's durability is another reliable feature that makes the youth buy it. Designed for rough use, this watch is water resistant as well is very hard to break even with an iron hammer.
This watch is very effective in measuring basic health status. This device mainly provides accurate health information about health, starting with blood pressure, heart beat rate, sleep time, etc. With this watch connected to your phone, you don't need to take out and look at your phone for every notification. The watch can handle phone calls, providing message notifications, internet features, etc., in a few clicks.
Disadvantages of having a Carbinox Watch
The first disadvantage of this product is its high price when compared to other watches. These watches come at a price range between  200 to 400 USD which may not be very pocket friendly for all. One can quickly get a moderate smartwatch at a much lower price. The next disadvantage is that these watches can be purchased online from its official website, which is not a very renowned site, so one can get scammed or face delivery or payment issues during the purchase.
The next disadvantage is that with time the rubber straps of the watch become harder. Wearing this watch for a long time may lead to feeling uncomfortable. Moreover, this watch is not a very slim and small watch like other typical smartwatches. It is slightly thicker, heavier, and more extensive than the others.
Conclusion
Understanding the growing demand for smartwatches in the market, the Carbinox watches are a serious competitor with so many leading brands. With its unique features, long-lasting battery and durability, Carbinox smartwatches will impress any technology lover. It also offers additional features like health status, internet connectivity, etc., which are additional bonuses for the buyers. This watch is sure to become much better in the near future and also is expected to become pocket-friendly so that everyone can afford it.
QnAs
1. Which country's product is the Carbinox Watch?
Carbinox is a company of US origin.
2. What is the cost of the Carbinox Watch? Is the carbinox watch worth it
These watches come in a price range between  200 to 400 USD. Yes, it is worth its price.
3. What is the battery life of a Carbinox Watch?
The device has a 380 mAh Lithium Polymer battery which charges within 2 hours, and the company claims it has a standby time of one month and when in continuous use, it can last up to 15 days.
4. Is the Carbinox a long-lasting watch?
Carbinox Smartwatches are durable and long-lasting because of their built quality and longevity features.
5. What is the display size of this watch?
The Carbinox smartwatch has a display size of 1.69 inches.