There was a recent survey on Twitter conducted a famous YouTube celebrity Dave Lee, in which he asked which smartphone and PC combination do people use more and the majority of people voted for Android+Windows. The biggest reason for its success was the customization options that both of these platforms provide. Best Rainmeter skins are pretty slick and help you customize your Windows laptop/PC a great feel and look.
Since long all people did to customize the way their PC was download new wallpapers or some gimmicky themes that sometimes worked or even stopped sometimes midway. But since the evolution of technology, many skin developers have emerged and Rainmeter has built up quite a reputation.
Best Rainmeter skins are very cool and customizable. They are very powerful so that you can have a bunch of stuff on your home screen. In addition to your clock, time, WiFi and basic stuff you can also see your processor usage, memory efficiency, E-mail, social media plug-ins and what not. The best thing about Rainmeter is that they add new skins nearly every day.
More – 6 Best Password Managers for Windows and Mac.
Rainmeter has thousands of skins but lets us work our way through the best skins that are available on the platform:-
Best Rainmeter Themes and Skins for Windows
1. Avengers Shield OS
The Marvel Comics Universe has a worldwide fan base and millions of people go bonkers on everything related to them. Avengers is their dream child, providing them with billions of $ every year. Thus the Avengers Shield OS is one of the most popular and downloaded skins of all time.
The Avengers Shield OS come in nearly every resolution so compatibility is not an issue. You can be a techie Nick Fury by controlling different aspects of your home screen like adding shortcuts like browser, media control, volume control, RAM usage, processor usage and the most important thing i.e., the S.H.I.E.L.D eagle tag.
2. Newspaper Desktop
This is one of the Best Rainmeter skins that scream "classic" in your face. Well, there are many techie or modern looking skins that appeal most of the youth but there are many classic designs that stand out and become an instant hit. The Newspaper Desktop is one of such design.
The Newspaper Desktop, when combined with an appropriate wallpaper, can look like there is an actual newspaper on your computer screen. You can also add a pocket watch widget to really bring out the true nature of the skin.
The skin at default has a lot of widgets like CPU usage, RAM usage, Date and time, WiFi statistics, Weather forecast and Memory usage counter. The best thing about all these widgets is that they are arranged in such a way that they look like they are printed in a newspaper.
3. Enigma
Enigma is undoubtedly the Lebron James of the Best Rainmeter skins (Yeah I know I've offended you Curry fanbois but a king is the King). The Enigma was the default skin of Rainmeter in 2009. This explains why it is the most downloaded skin of all the time. The reason for its success is its highly customizable nature.
Also, the Enigma has the option to show nearly every statistic you want of your PC on your home screen. Enigma has a lot of sub-modules that can arrange individually and they also have the convenience to configure as much as you want. Enigma shows Quick notes, CPU usage, RAM usage, multiple RSS feeds, World Time and Weather, picture slideshow, Real-time active processes and what not.
4. Ironman-Jarvis
After watching Ironman, everyone was in awe of Robert Downey Jr. (how is he so sassy!) and obviously his personal assistant Jarvis. Everyone wanted the convenience of having a personal assistant which brings up 3d screens and what not. Rainmeter has brought this fantasy of yours into somewhat reality.
The Ironman-Jarvis has a lot of modules and is thus very customizable. The coolest thing about this skin is that every information is coming out of the arc reactor!! The widgets include Hard disk capacity, Temperature details, clock and date, RAM and CPU usage, RSS feed, your shortcuts and everything you want.
5. Senja-Suite
Most of the skins we've discussed and also a majority of the skins that are on Rainmeter are either highly customizable or packed with features that hit your face. Though the option of having customisability and features at your disposal can be fun, but most of the times it just confuses the hell out of people.
This is where Senja-Suite comes in. If you're minimalistic and don't care about the features the skin has to offer but do want a change, Senja-Suite is at your rescue. It has a very clean design and only things that you require to keep track of on the home page. The information includes Date and Time, folder shortcuts, media control buttons, a slide show of your pics and power buttons.
6. Before Dawn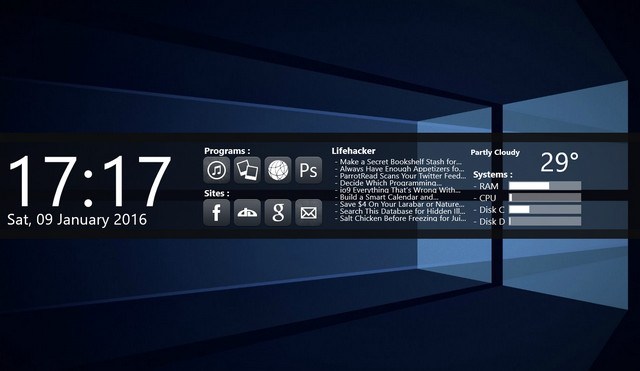 In this era of being workaholic be a procrastinator (Just Kidding). Jokes apart if you're someone who doesn't want to get in the technicalities of a skin or don't want to spend half of your day figuring out how to set a particular thing on your home screen then Before Dawn is the perfect Rainmeter skin for you.
Before Dawn is customizable but you don't have to do much as all the information you want about your PC is already on the home screen. Your CPU and Ram usage, date and time, shortcuts to websites and folders, RSS feed etc. are all on the homepage.
7. Neon Space
Well as the name suggests this skin has a bit of neon game going its way. This Rainmeter skin has been catching the eye of a lot of people with its flashy and vibrant design and outlook that make your PC look like the set of TRON.
The Neon Space skin has a lot of configurable modules that glow blue and green when you click them or even normally they have a pattern going on. It shows your regular date and time, climate with 3-day forecast, CPU and RAM usage. The coolest thing about this skin is that it has some sick holographic design that makes your PC look like some kind of spaceship.
8. Pileus
Yeah we know we know this sounds a bit odd and gross (seriously what the hell you were thinking developers?) but Pileus is one of the most powerful and intelligent Best Rainmeter skins that have been made.
Pileus is the demon child of sophistication and customisability. If you're someone who likes his/her home screen to be clean but also wants to have a lot of information displayed then Pileus is handmade for you. The best thing about Pileus is that it favors everyone and comes in both a dark and light version. The skin can show you everything you want like Power status, date and time, CPU and RAM usage, RSS feed and etc.
9. Aliens
No, don't worry the skin is not in any foreign language or puts up aliens on your computer screen (Yeah I know that was lame). Aliens is a very customizable and powerful skin that has a unique place in the thousands of Best Rainmeter skins out there. The thing with Aliens is that it that only works with a dedicated Aliens wallpaper. There are many customizable modules which can be used to display your RAM usage, power options, date and time, weather and what not.
10. ABP
If you're someone who likes to keep their stuff organized and particularly has OCD then this skin will work best for you.  The way ABP works is that it has various identical rectangle blocks that are arranged all over the home screen thus making it a very neat Rainmeter skin.
The ABP skin has some neat sub-modules and to compliment them there are some subtle shadows working around. ABP like every other skin has a lot of widgets like date and time, CPU and RAM usage, RSS feed, your social media accounts, email, and whatnot.
Read – Best Android Emulators for Windows 10/8.1/8/7.
Summing It Up
We interact with our devices all day long and there is possibly every chance that we get bored using them if we are working. Also, looking at the same layout for months makes us want to work on the same platform. However, it also want to feel fresh while doing so and this is where skins come into the picture. On our smartphones, we have the freedom to install any launcher to change the feel.
On the Windows platform, however, we have the option to install any theme or skin we want. Best Rainmeter Skins are leading the pack with around thousand of skins that you can apply and customize as much as you want.
In this article, we've listed a number of skins that were the most popular ones and also have the most downloads. You can search for other suitable skins that go with your taste and can enhance the way you use your PC. We hope that you like our listed skins and have a great experience!